Packing Essentials For Your African Safari
Packing for your safari can be challenging for a few reasons: a climate you're not used to, unknown adventures and weight restrictions on charter flights. Most camps and lodges offer laundry service, so you don't need a new change of clothes for every day. Use this guide to make sure you take what's essential for the safari of a lifetime!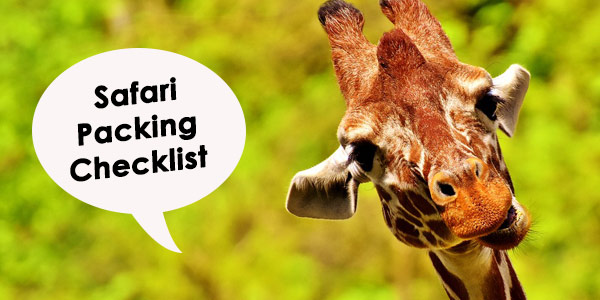 Casual, Comfortable Clothes
Keep the clothes you bring casual. This isn't the occasion for your designer jacket or high-heeled boots. You want clothing that is breathable and easy to move in. Long pants and long-sleeved shirts in lightweight fabrics will keep you comfortable while protecting from bug bites. And even in the height of the African summer, some locations can feel cool. Layers will help you stay comfortable when the temperature fluctuates.
Neutral-Coloured Clothes
Earth-tones aren't a "safari-look" just because of Indiana Jones. Africa has a biting fly called the tsetse fly. This fly is attracted to blue and black, and wearing either of these colours will attract the bug to you – and it will bite you right through your clothes! Also, sticking to neutral colours like kakhi, brown, town or olive green will allow you to blend in with the terrain, and won't frighten off the animals you went there to see.
Sports Bra
Ladies, trust us on this one. Some of the roads both to the safaris and inside the safaris can get a little bumpy. Pack a sports bra and stay comfy.
Hand Wipes
The African wilderness is dirty and dusty, and it will get on your face, in your hair, and on your hands. Baby wipes and hand sanitizer will help you clean up before meals while out on safari.
Waterproof Bag
A waterproof bag won't just save your camera/electronic equipment from rain/mud, but it will also protect your valuables from all of the dust you'll encounter on your trip. When you're not using it, a waterproof bag folds down to a small compact size, and is easy to travel with.
Flashlight or Headlamp
It will be dark at your camp after the sun goes down. If you find yourself walking between tents, you'll want to have your own light source with you. Even in your own tent, the light switch likely won't be right beside the bed, so you'll want a light to move around your own room in the middle of the night.